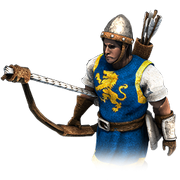 Archers in Age of Empires II are one of the four combat forces on land, the other ones being infantry, cavalry, and siege weapons.
General information
Edit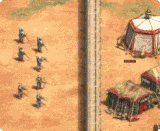 While being comparatively frail, all archer units possess a ranged attack, giving them an edge over non-ranged units. Most archers are foot soldiers, but there are also mounted variants.
Cavalry Archers
set themselves apart from foot archers by having an above average speed, making them able to hit-and-run enemy foot soldiers without casualties.
Archer units are trained at the Archery Range and become available in the Feudal Age.
Unique archer units are trained at the Castle. There are three exceptions: The Genitour, the Slinger, and the Imperial Skirmisher (unique upgrade of the Elite Skirmisher, available to the Vietnamese and their allies) are trained at the Archery Range.
Most archer units cost wood and gold, but some also cost food.
Archers excel at massed battles against non-ranged units, and in battles in narrow passages and densely developed areas, like forests and towns. There, they can use their range to fire over each other, while non-ranged units have to 'dig' themselves through an army of archers. In battles with few units, though, archers have trouble holding ground.
Archers in general are superior to infantry and Monks, and can very effectively eliminate Villagers. But they struggle heavily against siege units, which deal Area of Effect damage (especially the Mangonel) and can eliminate entire armies of archers quickly. Battering Rams are also a useful supportive semi-counter against large mono-archer armies, especially for players using archers themselves. While Rams deal little to no damage to archers on their own, they can be sent close to the archers, drawing automatic fire, which they resist thanks to their high pierce armor, allowing other ranged units to quickly dispatch the distracted enemy archers. This tactic forces the opponent to use intense micromanagement. Cavalry is also quite effective against archers, since they can close the gap quickly and have high pierce armor. But the easiest counter against archers is the Skirmisher, a trash unit that is cheap, easy to mass, and does both resist archer attacks and deal bonus damage against archers.
Other notable counters are Huskarls, Eagle Warriors, Rattan Archers, and War Wagons, the latter two being archers themselves.
List of archer units
Edit
Marked with yellow background are unique units.
Technologies
Edit
Listed below are all technologies that benefit archer units. Marked with yellow background are unique technologies. This list does not contain unit upgrades.
Civilizations
Edit
The Britons, Chinese, Ethiopians, Italians, Mayans, Saracens, and Vietnamese arguably are the best foot archer civilizations because of their bonuses and unique technologies.
The Japanese and Saracens are the only civilizations with access to all archer units and technologies.
As far as mounted archers are concerned, the Berbers, Cumans, Huns, Indians, Magyars, Mongols, Saracens, Tatars, and Turks are the most prominent civilizations. Generally speaking, civilizations with access to Parthian Tactics have prominent mounted archers.
Civilization bonuses
Edit
The following civilizations have bonuses that benefit archer units:
Team bonuses
Edit
The following civilizations have bonuses that benefit archer units:
Excluding the Magyars and the Berbers, all civilizations with prominent Cavalry Archers descent from various parts of Asia. This is also highlighted by the availability of Parthian Tactics, with 9 out of 10 factions that can research it being Asian cultures.
Among the 40 unique units in the game 13 are archers, including 5 cavalry archers. This makes the archer units the largest group as far as unique units are concerned.
Excluding Rattan and Plumed Archers, all foot archer, skirmisher and gunpowder units move at a constant speed of 0.96.
Community content is available under
CC-BY-SA
unless otherwise noted.