Arabia is a random map in Age of Empires II and Age of Empires III: Definitive Edition - The African Royals.
Age of Empires II

[

]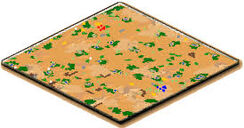 Arid desert with strategic elevations and cliffs, but sparse vegetation and water.
Description
[
]
Arabia is a notoriously open map with resources spread thinner than in most maps. Wood typically is in medium-sized bunches, occasionally wood bunches are spread far from one another making it difficult for players to turtle or defend from a rush (unless the defending player build towers around its Town Center). Gold and stone are of average placement, but just like the wood, gold and stone near the front of the camp can lend itself to a target of a rush by an enemy.
Deer and Boars are spread somewhat thin, and the number of these are fixed to 2 Boars (or equivalent) and 4 Deer (or equivalent), but providing wood for Farms should be the main concern. The number of herdables for each player is the standard eight Sheep or six Cows (half of them just near the initial Town Center, the rest somewhat hidden at a certain distance from Town Center). The number of bushes is the standard 6 bushes.
Lone wild predators are present in this map scattered and at low numbers. The number of Relics varies depending on the size, but in a 2 player map there are 5 of these.
It has the in-game tags of "Land" and "Open".
Viable strategies
[
]
Rush tactics are the most common strategies on this map, since there are very few natural obstacles players can use to wall themselves, making them vulnerable to early attacks, so an early rush aimed at an enemy's wood production or their gold and stone mines can win a game early on. Stealing Boars from an opponent is also very possible on this map, but it will depend on the size of the map and require micromanaging the scout unit to lure it.
Early attacks on enemy resources can cripple them or just end the game outright. When playing on a team, a funnel or springboard strategy (in which one player feeds another) works very well. Arabia is patronized by numerous professional players and is often a tie-breaking or final game of a series between two players. With the open spaces, archers and cavalry are recommended, but infantry will fare just fine.
Civilizations with advantages include:
Civilizations with good early aggression bonuses: Goths, Aztecs, Huns, Celts, Vikings, Japanese, Mongols, Magyars, Malians, Malay, Bulgarians etc.
Archer based civilizations: Mayans, Britons, Ethiopians, Chinese, etc.
Civilizations with good towers (as it allows for a tower rush in the Feudal Age): Byzantines, Teutons, Incas, Koreans
Civilizations that may struggle in Arabia include:
Age of Empires III

[

]
Arabia is one of the two new single player maps in Age of Empires III: Definitive Edition added in update 13.690.
Overview
[
]
Players find themselves on the iconic Arabian Peninsula. This map is very open, despite a few scattered cliffs. Aggressive expansion is crucial as nearby resources will be exhausted quite quickly and there are no easily defensible chokepoints near each player's town center. The circular trade route will be difficult to control, but not contesting it could have dire consequences.
Treasure Guardians
[
]
Gallery
[
]