"A thick jungle surrounding the greatest river of them all, the Amazon is as tempting as it is treacherous."

—Map description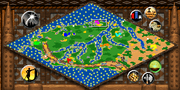 Amazon is a Real World random map introduced in Age of Empires II HD: The African Kingdoms. The Amazon rainforest which is depicted on the map lies in the north of South America.
Overview
Edit
The Amazon map is divided by the Amazon river. On the land surrounding it there is no dense jungle as in reality, there are merely only small forests sitting on grassy terrain. In the west there are the Andes, which are difficult to access, but hold lots of gold and stone. The seas surrounding the continent are rich with fish.
Environment
Edit
Apart from the Andes in the west (represented by cliffs), the map is rather flat and simple. There is no wildlife except in the players' starting positions and lots of free space between the small jungle forests. In the south, the grass is brighter to represent the vegetation of the Pampas.