Polls
Should Fanmade material be allowed even though it is technically feasible and theoretically possible?
Why should Fanmade material be allowed?
Why should we NOT allow Fanmade material?
Thank you for your votes!
Click here to see more polls!
Featured article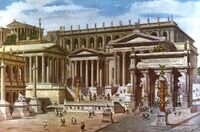 The Romans are a playable civilization in Age of Empires: The Rise of Rome. The Romans controlled the empire from modern day Italy in the city of Rome, which was once one of the largest cities in the world. At its highest peak the empire extended across large areas of Europe, some of North Africa, and Asia Minor. The Romans in the game are primarily an offensive civilization but they also work well under defensive strategies due to their cheaper cost of constructing buildings and fortifications. Due to their access to powerful Iron Age technologies, they are able to field formidable armies in most games since they produce some of the finest infantry from the Barracks. (more...)

Recently featured: Assyrians
Did you know...
Fun facts about the Age of Empires series and the Age of Empires Series Wiki:
...that Age of Empires is the first of its kind in the realm of real-time strategy (RTS) games?
...that Age of Empires: The Age of Kings is the only game in the series that is played on the Nintendo DS?
...that the Age of Empires Series Wiki is one of the oldest gaming wikis on Wikia still active?
...that currently all the maintenance of ELO and ELO 2 and supervision of Age of Empires and Age of Mythology series is run by Robot Entertainment, one of the companies formed after Ensemble Studios disbanded?
Helping out
Not sure where to start?
The community portal is a great place to learn about the wiki. It contains information for newcomers and regular members alike:
Benefits of creating an account.
Info on getting started and editing the wiki.
How to customize your user page.
See what's missing on pages.
How to maintain pages and make sure they have a consistent look.
Reference materials on templates, categories, and more.
Announcements and community news

Create blog post
Refresh
A wikia staff member has contacted me and wondered if we wanted to migrate our forums to the new Discussions module. According to him, "Discussions support desktop and mobile posts, feature an upvote system, and support multiple boards of different topics. They are also tied into our Community Apps…

Read more >
See more >