This article needs an image for it to be complete. Please locate and insert one.


See here for a full list of articles needing images.
Age of Empires II Mobile is a J2ME mobile game developed by In-Fusio and released on 1 June, 2005 for selected mobile devices.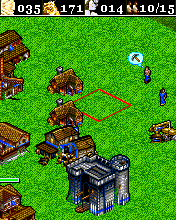 The mobile game features similar gameplay to the PC version, albeit on a smaller scale. Three modes are available: a tutorial, a campaign split into three campaigns of seven scenarios each, and random map. Villagers gather food, wood, gold, and stone as resources, and military units can be trained. The player must progress through four different Ages: Dark Age, Feudal Age, Castle Age, and Imperial Age.
Villager
Pikeman
Swordsman
Archer
Scout
Cavalier
Mangonel
Battering Ram
Conqueror
House
Lumber Camp
Gold Mining Camp
Stone Mining Camp
Mill
Guard Tower
Town Hall
Barracks
Stables
Archery Range
Blacksmith
University
Castle
Age of Empires II Mobile Deluxe Edition was released in 2006. It adds two new civilizations: Persians and Japanese.
Alcatel: OT565, OT556, OT735i, 341i
LG: U8150, L1100/C1100, 34li/342i
Mitsubishi: 341i/342i/420i/430i
Motorola: V220/C385/C650/V180, V300/V400/V525/V500/V600, V535/V545/V547/V550/V635/V3/V80, V980/C980, E1000/378i
NEC: 341i/342i/400i/401i/410i/411i/500i/600i
Nokia: 3200, 7250, 6220, 3510i, 3650, 3100, 6100, 6610, 6820, 7210, 6230/3220, 6600/6620/6630/7610/6260/6670, 7650
Panasonic: X60, X701, 341i/342i
Sagem: MyV55/65/75/X5-2/X-7/C5-2, 321i/322i/341i/342i/343i
Samsung: E700/E800/E820/E630/X460, E710/X450, E810, Z100/Z105, 341i/342i/410i
Sharp: GX10, GX20, GX15, GX25, GX30, 902/802
Siemens: C65/CV65/CT65,SL65, CX65/CXT65/CXV65/M65/S65, MC60/S55/SL55/M55
Sony Ericcson: F500i/K500/Z500, T610 (MRI/MR2)/Z600/T630, K700i/Z1010, V800, S700
Vitelcom: tsm 6/7i/30i
Community content is available under
CC-BY-SA
unless otherwise noted.