Age of Empires II HD: Rise of the Rajas is the fourth expansion for Age of Empires II: The Age of Kings. It adds four new civilizations and campaigns set in the Southeast Asia region.
The third expansion developed by Skybox Labs and Forgotten Empires, it was released December 19, 2016.[1]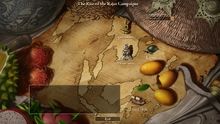 There are four new campaigns in Rise of the Rajas, one for each of the new civilizations.
Like The African Kingdoms, this expansion adds four new civilizations, each of which share the new Southeast Asian Architecture type.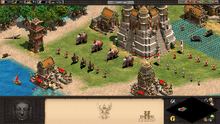 Battle Elephant: A slow but powerful cavalry unit available at the Stable for the four new civilizations.
Harbor: Available only for Malay, an upgrade from the Dock that can shoot arrows.
Rise of the Rajas also features new Scenario Editor objects (for example, statues of Buddha) and unique Southeast Asian terrains for the new maps (including rainforests and mangrove forests). Among them, a new type of amphibious terrain is featured on the new maps, where structures can be built on and that both land and naval units can traverse, providing a new and unique playstyle as naval and land units can easily clash with each other.
Changes applied in the expansion:[2]
Arrowslits costs 250F 250W (increased from 150F 150W).
Arrowslits removed from the following civilizations: Ethiopians, Goths, Huns, Indians, Magyars, Malians, Mayans, Mongols, Persians, Portuguese, Slavs.
Arrowslits moved to Imperial Age.
Effect from Arrowslits reduced from 2/4/6 to 1/2/3.
Elite Skirmisher upgrade costs 200W 100G (reduced from 250W 160G).
Husbandry costs 150F (reduced from 250F), research time reduced from 50s to 40s.
Fire Ships are now affected by Ballistics
Siege Tower costs 200W 160G (reduced from 300W 160G).
Acacia Trees are now worth 150W (increased from 100W).
Demolition Raft speed -0.1 (reduced from 1.6 to 1.5).
Fire Galley pierce armor reduced from 5 to 4.
Demolition Raft no longer does full damage to its complete blast radius (damage increases based on proximity).
Demolition Raft blast radius increased from 1.5 to 2.5.
Demolition Raft pierce armor reduced from 3 to 2.
Demolition Raft HP reduced from 50 to 45.
Greek Fire upgrade costs 250F 300G (instead of 250F 450G).
Kamayuks +0.05 speed (same base speed as Samurais and Throwing Axemen).
New Indian architectural style (replacing the current Middle Eastern for the Indians).
Gol Gumbaz Wonder moved to Scenario Editor, replaced with a new Wonder.
Feitoria now cost 250g, 250s (changed from 250g, 250w).
Feitoria production rates are now 0.8f, 0.8w, 0.45g, 0.25s (from 0.7f, 0.7w, 0.45g, 0.45s).
Arquebus now has a smaller effect on gunpowder units (Ballistics is still enabled but projectile speed modifier reduced by 75%).
(Elite) Organ Gun have 1 min range now.
(Elite) Organ Gun lose -1 bonus attack vs infantry.
Boyar speed increased from 1.35 to 1.4.
Team bonus for trade is 25% more gold instead of 33%.
Gold miners work 20% faster (up from 15%).
Rise of the Rajas was first announced by Forgotten Empires on their official website at December 13, 2016.[3] To celebrate the launch of the new expansion, a mini-tournament called Battle for Angkor was held on December 17–18. The tournament featured eight expert players who used the new civilizations and was broadcast on Twitch.[4]
Rise of the Rajas was the first expansion to not include a civilization that would later use Mediterranean architecture.
Community content is available under
CC-BY-SA
unless otherwise noted.