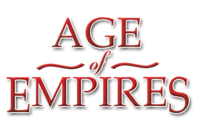 Age of Empires is a series of historical real-time strategy video games originally developed by Ensemble Studios and published by Microsoft Studios. The first game, Age of Empires, was released in 1997 and the series has spanned five major titles and several spin-offs, selling over 20 million copies to date.
Main series
Edit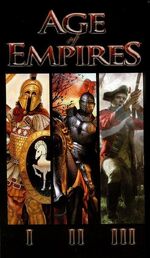 All main series titles are PC-exclusive and were originally developed by Ensemble Studios until their dissolution in 2009. The upcoming Age of Empires IV is being developed by Relic Entertainment.
Re-released games
Edit
Age of Empires II: HD Edition was developed by Hidden Path Entertainment. All other remasters and expansion packs have been developed by SkyBox Labs, with the assistance of Forgotten Empires.
Spin-off games
Edit
Mobile games
Edit
Boardgame adaptations
Edit
Soundtracks
Edit
Music From the Ages (1999)
Age of Empires Compilation Sountrack (2000)
More Music From the Ages (2000)
Age of Mythology Original Soundtrack (2002)
Age of Empires III Original Soundtrack (2006)
Age of Empires: Definitive Edition Soundtrack (2017)