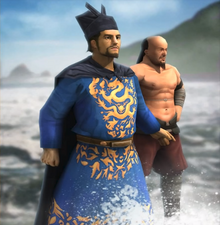 The Chinese campaign focuses loosely on the 1421 hypothesis about a Chinese treasure ship discovering the New World before Christopher Columbus. The story mainly focuses on Jian Huang, a Ming captain who has long dreamed of seeing the outside world, and his partner and new friend, Lao Chen, a large, powerful, and crude sailor, who are given orders to help expand the Ming Empire.
Synopsis
[
]
In the beginning, the treasure fleet is attacked by Wokou Pirates while still under construction. On orders of the spoiled and selfish Admiral Jinhai, Huang and Chen save the fleet and eliminate the pirates. The fleet then embarks westward and is next seen to land in a port on the coast of India. There, many of the crew, including Huang and Chen, are attacked by soldiers of the Indian Zamorin and flee with part of the fleet to a nearby island, where they set up a new base and mount a rescue mission to save Jinhai and the remaining crew who have been captured by the Zamorin's troops and some Chinese defectors.
The fleet continues west at Jinhai's insistence, although many ships turn back, and eventually are cast ashore in the Yucatán by a storm. Chen and Huang go to rescue crews of the other ships from hostile Aztec soldiers. When they return, they find that Jinhai has disappeared. Huang suspects that he was captured along with many of the fleet's crewmembers and mounts a rescue mission. Huang and Chen cut through the jungle and rescue many of their comrades, but Jinhai is not among them. Huang's small army of sailors then enters a nearby Aztec city, where they learn that Jinhai has set himself up as an emperor or perhaps a god among the Aztecs and that it was Jinhai who plotted with the Zamorin in India.
Huang and Chen escape an ambush by Jinhai's soldiers and flee back to the coast through a series of caves, rescuing more of their crew along the way. Once back at the coast they set up a base and counterattack, defeating and killing Jinhai. After the battle, Huang, Chen, and the surviving crew members scour the beaches for all evidence of their presence and then sail home to China, hoping that no one will ever know they were there.
Gallery
[
]